Event Day Information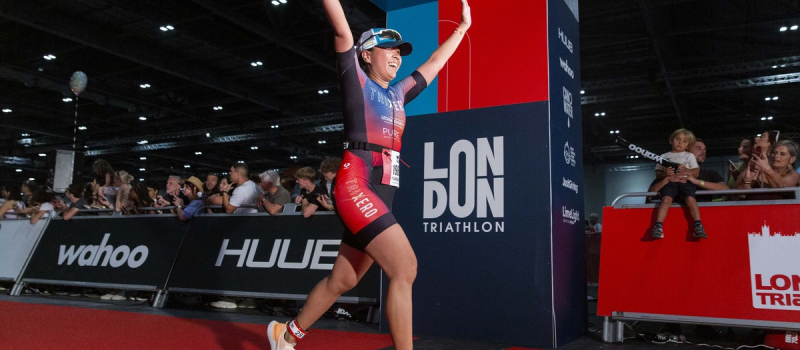 Challenge London will be taking place on Sunday 6 August 2023.
We have all the information you need to know ahead of event day included below.
Challenge London will take place on Sunday 28th July 2024 (date subject to approval). 
Road closures will be in place in certain parts of London on this date. 
We have been worked closely with Westminster City Council, City of London, London Borough of Tower of Hamlets, London Borough of Newham, and TfL to ensure disruption is kept to the absolute minimum. 
Road closures will go in place from around 04:30am and remain in place until 04:00pm in some areas. More info for 2024 will be available closer to the event.
Getting There
The event takes place in and around ExCeL Exhibition Centre, Royal Victoria Dock, London E16 1XL, www.excel-london.co.uk. Please arrive 1.5 hours before your race start time.
BY CAR
Participants and their supporters should use the car
parks at the eastern end of the ExCeL Centre which can be accessed via Royal Albert Way from Gallions Reach Roundabout via Royal Docks Road (A1020) from Newham Way (A13) and The North Circular (A406).These roads
will be busy on event day because of the road closures in place so allow sufficient time for your journey.
Please plan your journey before travelling as roads will be closed for racing on Sunday.
On arrival to the ExCeL car park there will be vehicle checks and sniffer dogs. Please have the QR code that has been sent to you for race pack pick up ready to show that you are a participant on arrival at the car park.
Visit: Road closures for more information.
PARKING
For all event parking please navigate to the east entrance. If you are transporting your bike on a roof rack or if you have a high or wide vehicle, please use the parking spaces on the upper level. The parking spaces on the lower level have a height restriction of 1.9m. Please follow the direction of the traffic stewards who will be able to direct you accordingly.
Please remember if you decide to rack your bike on Saturday, and transported your bike via roof rack you will need to return to the upper-level parking on Sunday to ensure you have no issues with roof clearance once you've picked up your bike post event.
All parking at ExCeL is charged at a daily rate of £25 which is payable via pay and display tickets which are available for purchase within the car parks. Visit the ExCeL website for more information.
ACCESSIBILITY
There are clearly marked disabled parking bays in the Orange car park on the lower level. Blue badge holders can park in designated disabled parking bays free of charge. There is a fine of £80 for parking in a disabled bay without displaying a valid disabled badge.
Visit the ExCel website for more information.
All participants must be prepared and ready on arrival to show their unique QR codes on entering the car park
PUBLIC TRANSPORT
The following stations are nearest to The London ExCeL Centre.
• Custom House Elizabeth Line / DLR 0.5 miles from ExCeL.
• Prince Regent DLR 0.1 miles from ExCeL.
• Canning Town (Jubilee Line) 1.6 miles from ExCeL. • West Ham 1.8 miles from ExCeL.
• Stratford 3.5 miles from ExCeL.
Bikes are allowed on the Elizabeth line and DLR off-peak and at weekends but are limited to a maximum of two bikes per set of doors. For more information please see here. The Elizabeth line is now running on Sundays but please be aware of the limited number of early morning services. A full timetable can be found here.
Due to these limitations, and in light of the number of competitors taking part in the triathlon on the Sunday, we recommend that competitors with bicycles either cycle to the event or travel by car.
Race Day
| | | |
| --- | --- | --- |
| Day | Opening time | Closing time |
| | | |
| --- | --- | --- |
| Saturday | 16:30 | 18:30 |
| Sunday | 05:00 | 15:00 |
WAVE TIMES
We strongly advise that you arrive at ExCeL 1.5 hours before your start time. It will take time for you to park, collect your race pack, timing chip and swim cap, walk to Transition, rack your bike, set up prior to your race and to familiarise yourself with the course, while arriving 20 minutes prior to your start time for your briefing.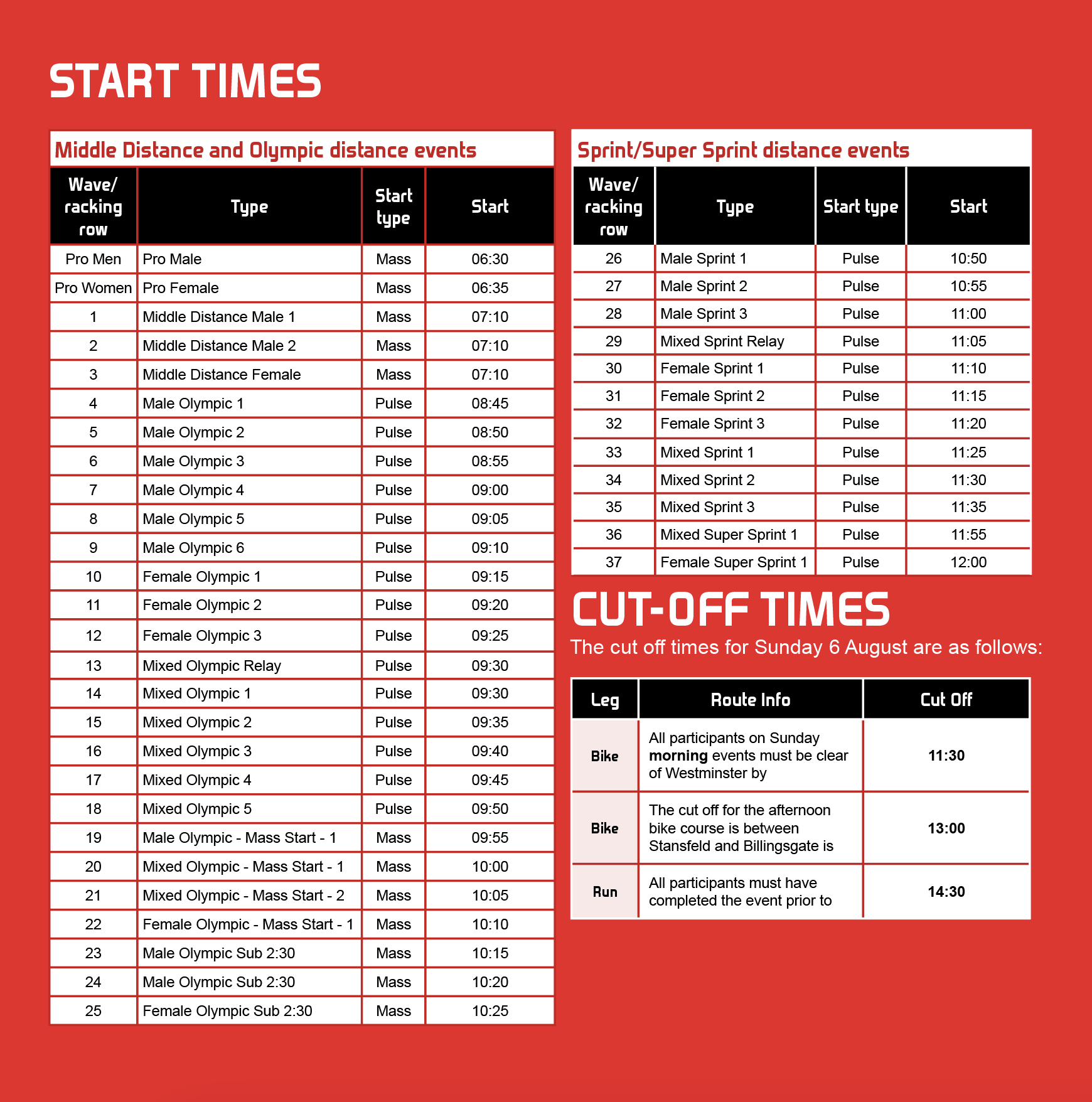 SATURDAY INFORMATION
Participants have the option to collect their Race Pack the day before or on the day of the race itself.
Race Pack Collection and pre-event bike racking will be available on Saturday 05th August in the Event Village, within the ExCeL South Halls from 16:30 until 18:30.
If you plan to arrive for Race Pack Collection and bike racking on the day of the event, please ensure that you arrive 90 minutes before your start time to allow you to set-up and get ready to race on time.
NO DOGS
Please be aware that no dogs are allowed with ExCel London's venue and therefore within the Event Village. If arriving by car, participants or spectators bringing a dog will be turned away at the access point to the car park or if travelling on foot at the entrance to the venue itself.
Those attending with Guide or Assistance Dogs will however be permitted access. If you are planning on bringing a Guide or Assistance dog to the event, please do contact us in advance to let us know at info@challenge-london.com
Dogs are permitted in external areas but dog walkers are asked to keep their dogs on their lead, particularly when close to the run and bike routes, for their own safety.
BAGS
We recommend that all participants and spectators bring with them a small bag containing only their kit. Larger bags will be subject to searches and even small items may be subject to random bag search upon arrival.
Event information for spectators
LIVE Tracking
On August 6th, spectators will be able to track participants' live progress by downloading our official LSC app called 'LimeLight Sports Club'. This app is available for both iOS and Android devices. Simply click on the heart symbol for the Challenge London Takeover.
You can also use our online live tracker here.
And here you can find the Pro Leaderboard!
As our triathletes reach various timing checkpoints, their estimated finishing time and location on our event map will update.
PLEASE NOTE: Full start lists will not be available on the tracker until the morning of the race, so not to worry if you can't find yourself there in the lead-up to the event, it will upload on the day!
Have you got anyone coming down to the ExCeL to cheer you on during your triathlon? Here are the key places they can watch you race throughout the event! 
EVENT VILLAGE  
If you are accompanying your friend or family member, as a spectator, you will not have access to the transition area, and you will need to say your final good luck before the participant enters the Start briefing pen.   
You will be able to have a view of your athlete as they run through the Event Village during their running laps and be able to see the triathlon finish line which will be located in the hall.   
Also in the Hall you will have access to food and beverage services as well as a seating area, and toilets.   
If you would like to access the dockside to see the Swim you will be able to do so from the Event Village.   
GOING OUT ON THE COURSE   
Please be aware that access to areas where it is possible to view the course are limited, please see suggested areas below.   
Access to the Dockside   
Access to see the swim is via the Event Village in the ExCeL South Halls following the stairs down to the dock edge. For those with accessibility needs there are also lifts at this location.   
Please note that due to building works at the venue there is no access/exit from the east end of the Dockside. To exit this area, you will have to re-enter the ExCeL Centre and proceed to the East exit via the central boulevard.   
Access to the Bike Route   
From ExCeL there are limited areas where it is possible to view the bike route safely or without impeding access to other areas.   
If you would like to view the bike please exit the ExCeL via the Western entrance, make your way down the steps or ramp to the taxi rank, and immediately turn right passing across Western Gateway, following the road under the upper walkway to Seagull Lane.  
Access to the Run Route   
To view participants on the run route please proceed to the East Exit of the ExCel building turning immediately right before the DLR walkway bridge leading to Price Regent Station.   
Proceed along the upper deck alongside the Aloft hotel and use the temporary staircase to access the lower level. Please note that access via the staircase to the entrance of Aloft hotel on the lower level will not be permitted. Those requiring step free access for wheelchairs and push chairs (not including bikes) can use the lift located in the Aloft hotel.    
Once on the lower level follow the path that will take you towards the roundabout at Festoon Way. Continue to follow the path until you have gone past the DoubleTree Hotel. Turn right and use the hotel car park towards the dock edge.  
Pass underneath Connaught Bridge to access the area outside the Boat Club to be able to view the run route.   
Please note that we will be monitoring the capacities in all these areas. Should they become overcrowded access via these routes may be paused in order to ease  
Click here to view spectator map
MORE INFORMATION 
If you have any further questions about the event please refer to our Race Day Guide or if you would like to speak to one of our team, please email: info@challenge-london.com 
Our friendly photographers at Marathon Photos will be taking your pictures on course, as well at the finish line. Look out for the "smile for the camera" signs and be sure to give the photographers a wave or thumbs up if you're feeling the love. We will send you an email with a link to your photos to purchase in the days after the race or purchase them now and experience the perks of LIVE photos. Every time you pass a MarathonPhotos Live photographer, you could have photos online within seconds! Photos will be LIVE from the start of the race.
You will be able to look up your pictures on their website here.
MarathonPhotos.Live is now giving you the opportunity to buy your Photo Pack for only £29.99! The offer is valid up to 7 days after the event and the pack includes all your Hi-Res original images.